Social Innovation = Multidisciplinary human-centered design + Social impact


    Thi's creative practice focuses on design for social good through multidisciplinary and systematic human-centered design. She is fascinated about defying underlying problems either in design or in the community and exploring different design methods during the process of synthesizing research and ideation. Because "Everything is interconnected," Thi enjoys finding connections among different disciplines such as psychology, philosophy, entrepreneurship, anthropology, music and performance to elevate her work. As for her, innovative design is not about what we create but fulfilling what has been missing. 
Typography


    Her artistic side embraces the love for typography and editorial design. Typography is our verbal language translated into a physical format. It not only depicts a form of art—type anatomy but also a manner—type personality. Typography is our culture, a reflection of how we think, how we talk to one another, and our aesthetic perspective.


Community


   
Designers are entrepreneurs, scientists, social workers, students, teachers, and citizens. We're responsible for the impact we make in our community. Designers don't create posters. We create awareness. We don't design an exhibit. We design education. Designers are the voice and the expression of the community. In other to do that, we need to learn from our community members and to work collaboratively with experts from different industries.
Contemporary Dance


     Thi spent five years practicing modern and contemporary dance, in which she studied the relationships between humans and space, the artificial and neutrality through different forms of expression such as gravity, breath, and qualities of movement. Dance has given her the sensibility to see the world (as content) and its relationship with human objectivity (as form), and how it facilitates human connection with others and within the space.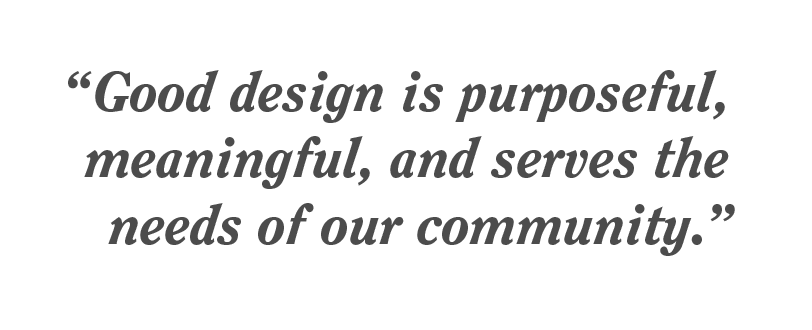 Teaching


     Thi is a graduate student in the MFA Communication Design at Texas State University and has been a teaching assistant in the BFA Communication Design program since 2017. Course taught:


     Typography I ::

This course covers the fundamentals of typography including type anatomy, personality, and hierarchy, and different methodologies of typography in print design. Lectures, demonstrations, and studio work emphasize the abilities of understanding, analyzing, composing layout, choosing typefaces, and all technical skills involved in the making process.

     Typography II :

: This course explores advanced issues in page structure and composition, content organization and management, typographic and visual hierarchies, typeface selection, and typesetting in editorial design.

     Concept Strategies :

: This course covers a variety of conceptual strategies that inform the problem solving, ideation and execution processes in order to create contextually meaningful design artifacts. Students will learn how to utilize relevant research, conceptual development, iterative design processes, and user testing in order to create well-crafted design pieces. Design artifacts include trademark, packaging, web page, and ambient advertising communication. Methods of presentation include lecture, contemporary and historical examples, demonstrations, exercises, assigned and independent reading, written assignments, critiques, and classroom discussions.

     Packaging Design ::

This course gives students the opportunity to explore the role of the communication designer in the creation and execution of sustainably designed packaged consumer goods while meeting industry standards, principles, and guidelines in the context of the global marketplace. Projects focus on brand building, communication & storytelling, design methodologies, entrepreneurial thinking, prototype & Iterative process, the role research plays in the creative process, developing user personas, conducting user testing, craftsmanship, hand-built comprehensive layouts, and design for sustainability.