The project was part of the 2019
Design for America's national project
on facilitating plastic film recycling at the local community–San Marcos (SM), Texas. 
Role:
 Project lead
Project timeline:
3 months
Design Process
: Identity, Immerse, Reframe, Ideate, Build, Test
Community partners:
FFRG, Texas State Campus Recycling Center, RAs (Residential Assistant)
IDENTIFY 
Objective:
 identify the potential challenge areas in San Marcos. We reached out to the main grocery store in SM—HEB that offer plastic drop-off station, the campus recycling center, and resident assistant to better understand how they currently utilize the recycling system. We also interviewed 3 families and 7 students who live in SM. 
Key Takeaway
1. Although there are plastic film recycling drop-off locations in San Marcos, they have not been utilized with full potential. The majority of community members don't know what plastic film is and if they can be recycled.
2. Plastic film recycling isn't accessible for Texas State students (50% of the San Marcos population). Informing students on how to recycle plastic film would make a considerable change in the community.

Organizational change is measured by
     1. Structural Change: plastic film collection infrastructure
     2. Changes in the Nature of Work: how the local community utilizes recycling program
At the end of Identify, we narrow the challenge into 3 main areas by rewriting the How Can We (HCW) questions
     1. HCW provides community members at the grocery store plastic film recycling information so that they can consume less plastic package and drop off their plastic film after uses?
     2. HCW give students on campus a creative incentive system so that they feel excited to eliminate plastic film on campus?
     3. HCW organizes a pilot program for RA's and students in the dorms so that they have a better understanding of plastic film recycling and how to do it?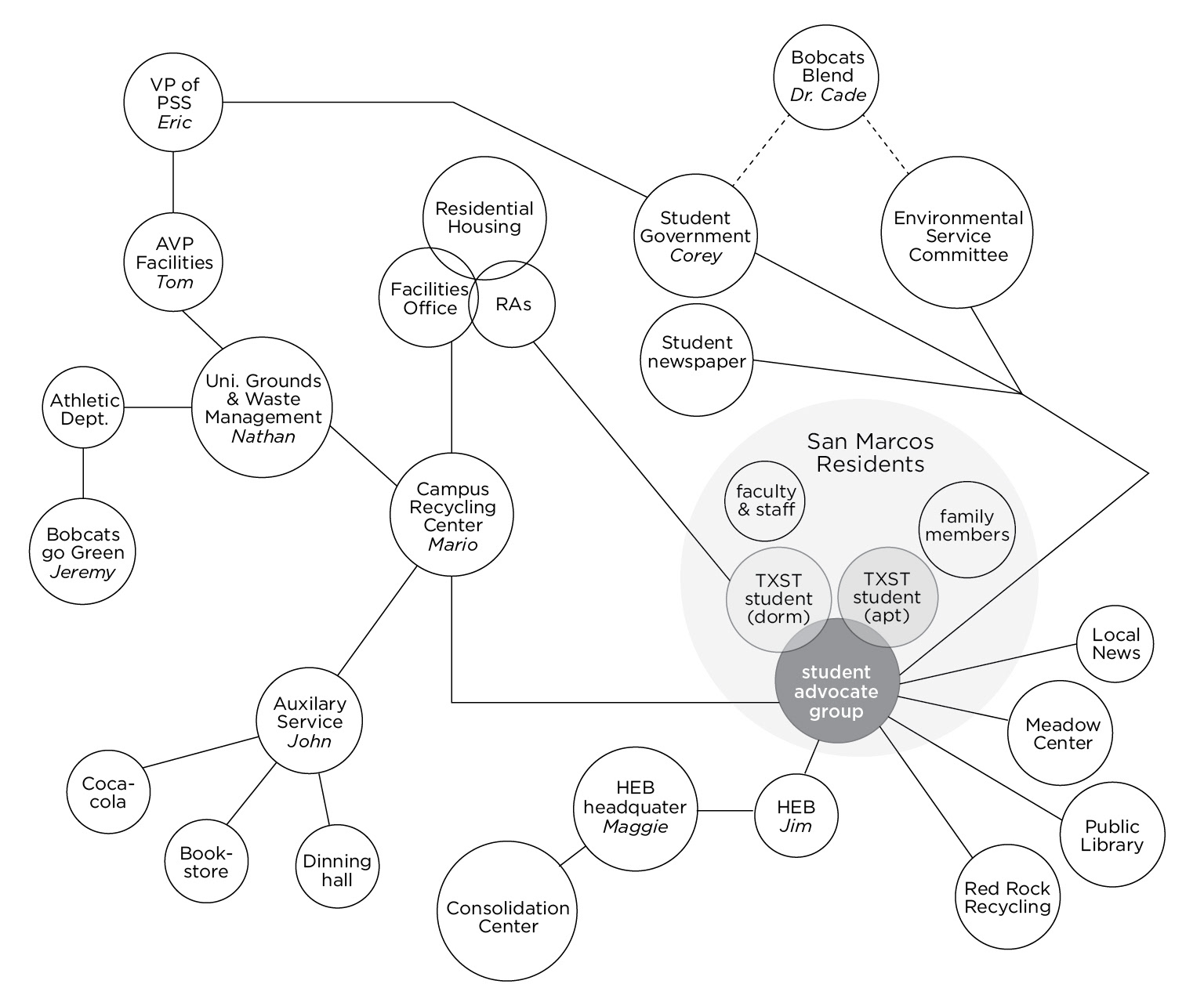 IMMERSE 
Objective:
conduct secondary research with end users to better understand the root causes of the challenge
Method:
interview (
Texas Disposal System, Campus Recycling Center, Campus Compost Program, HEB)
, user-generated artifact (30 students), participatory research (7), and field trip (1)
Key Takeaway
1. Recycling info is created at the RAs discretion, info is usually jam packed and not readable or eye-catching.
2. Most students don't utilize the campus recycling system because there is no instruction provided. They don't know what plastic film is.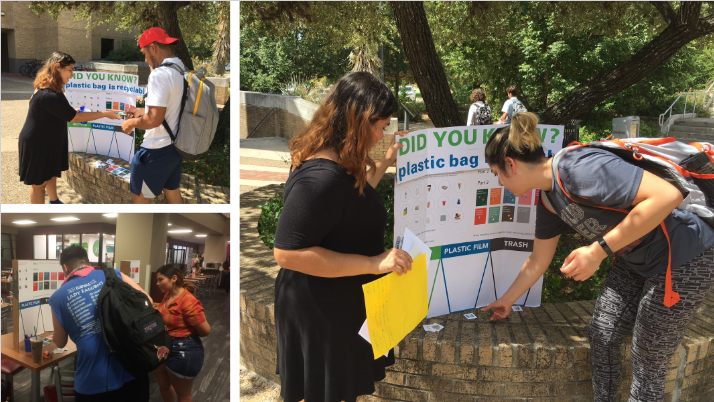 rEFRAME
Objective:
 identify the key challenges of plastic film recycling
Method:
participatory interview, bundle/cluster findings
1. Recycling is a lifestyle and influenced by the community, but it takes individual effort. Recycling information is available but not accessible. 
2. Recycling info is created at the RAs discretion. RA is one of the direct influencers in our community.
3. Recycling projects on campus in the past couldn't sustain for two main reasons: viability & lack of resources, especially labor and finance.
4. Although plastic film recycling (single stream) is more straightforward than conventional plastic, it requires extra steps besides the residents' daily disposal routine, such as separating, cleaning, drying, and taking them back to the store.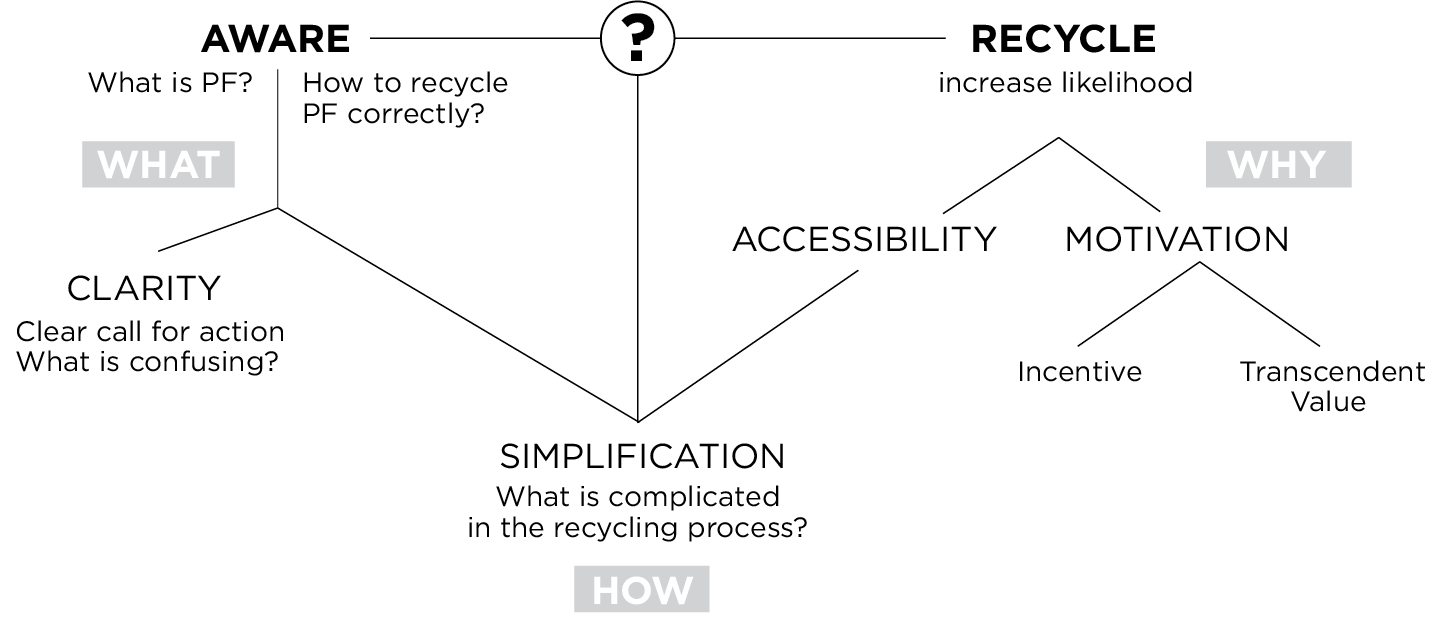 iDEATE
We begin the ideation process by defining different design criteria to help us evaluate our ideas, and a list of Measure of Success for the next step — Prototype testing.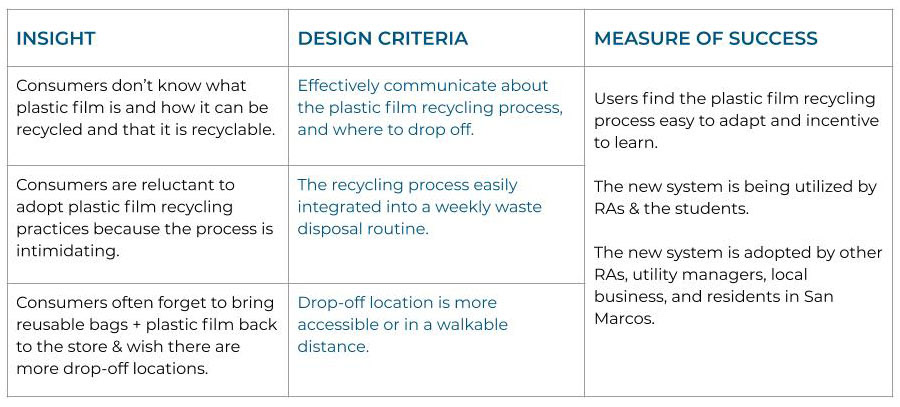 We narrowed challenge space with two How Can We (HCW) questions following this structure:
HCW ___ [design task] ___ [user] to ___ [task] in order to ___ [design goal]?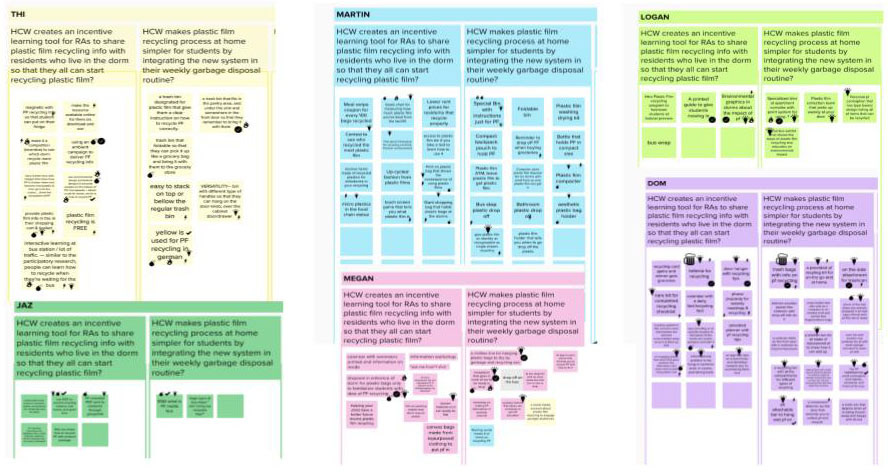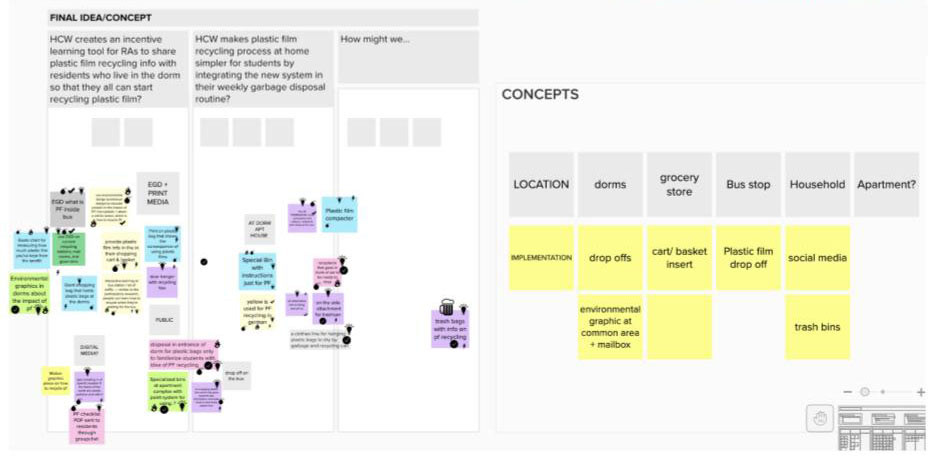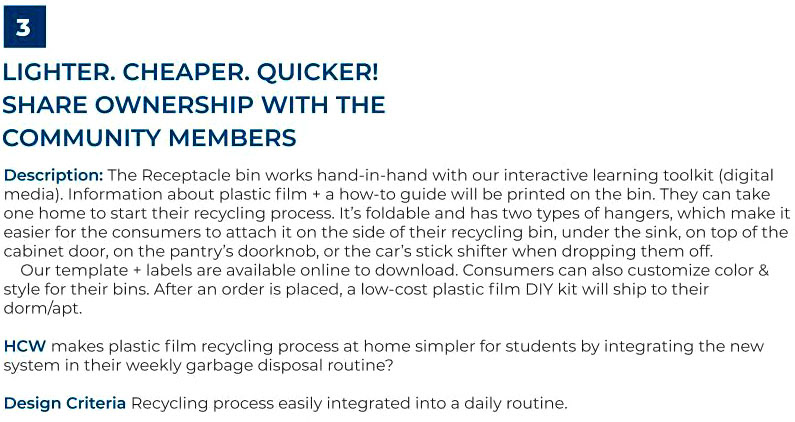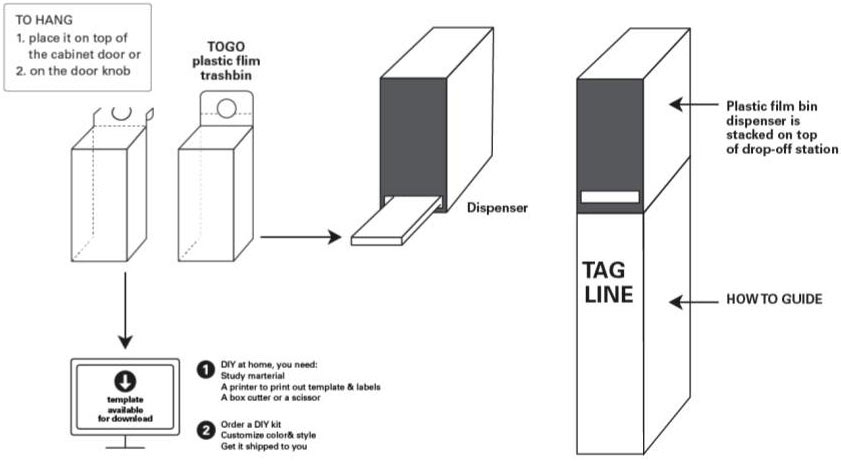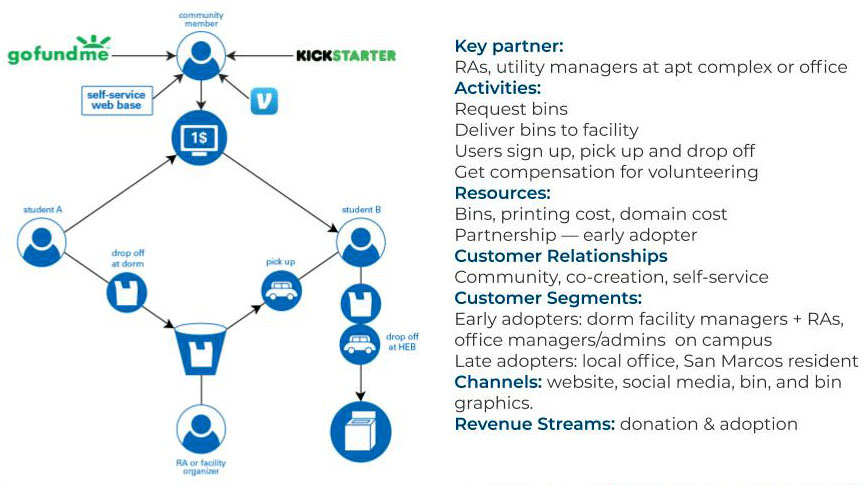 BUILD
Due to the timeline restraint, we decided to move forward with idea #3—Receptacle bin
We choose on 2 different materials (cardboard and fabric) that can be reused or recycled, and 3 designs to could elevate the user experience — making plastic film recycling fun.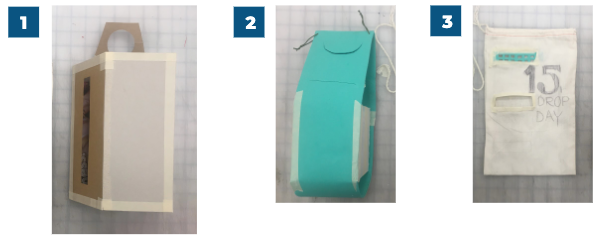 Communication Strategy: educate, inspire, clear call for action through visual and content hierarchy.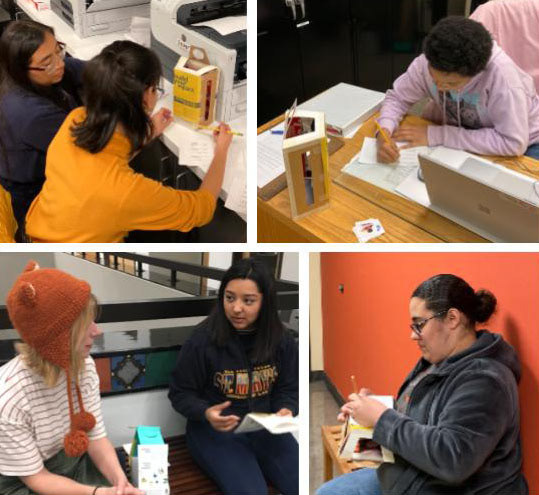 We used two different protocols for the user test
A.
 User are give the prototype without any instruction 
— The designer observes and fill out the feedback sheet
— The designer ask follow up questions
B. U
ser are give the prototype without any instruction 
— User explain the product for us
— The designer observe ask follow up questions
— The designer give the user 2 prototypes for A/B testing on features, materials, experiences.
User Feedbacks:
1. A lot of information. Confusing language
2. Users interact with the prototype based on their assumptions on the shape.
3. Users keep mentioning the portability of the prototype.
4. Great concept. Willing to adapt. 
Iteration direction:
1. Clarity of Language: direct call for action, implement icons in the label
2. Simplify some features of the receptacle bins
3. Prefer a lighter material, easily compact and carried
Include a labeling system, two prototypes, and an online onboarding site template.